Chickpea & Quinoa Salad
Salad:
1 can chickpeas, rinsed and skins peeled off
1 Tbsp celery, chopped
1 Tbsp onion, chopped
1 Tbsp red pepper, chopped
1 Tbsp carrots, chopped
1 cup quinoa, cooked
Dressing:
3 Tbsp white balsamic vinegar
2 Tbsp Dijon mustard
1Tbsp maple syrup
Toss salad ingredients with dressing and enjoy!
Broccoli Slaw
Dressing:
1 cup raw cashews
1 Tbsp apple cider vinegar
2 tsp lemon juice
1/4 tsp fine sea salt
1/4 cup + 1 Tbsp water
2 tsp maple syrup
1 tsp dry mustard
Coleslaw:
1 bag broccoli slaw
2 organic apples, chopped in food processor
1 cup raisins
1 cup cashew sour cream
Gather dressing ingredients. Soak cashews in hot water for 30 minutes then drain.
Add all ingredients and blend until smooth. Set aside in the refrigerator.
Mix broccoli slaw with apples. Add raisins add additional dressing. Stir until all ingredients are mixed well.
Serve immediately or refrigerate for up to two days. Makes 8-10 servings.
Date Snack Balls
8 Medjool dates, pits removed
1 cup old fashioned oatmeal, uncooked
2 Tbsp chia seeds
2 tbsp cup ground flax seed
1/3 cup mini chocolate chips
1 tsp vanilla extract
1/2 cup nut butter (sunflower seed butter, almond, cashew or peanut butter)
Fill a glass container with very hot water. (I heat about 2 cups in the microwave for about 1 1/2 minutes.)
Add dates to water, set aside for 5-10 minutes. This softens the dates and makes them easier to puree,
but may not be necessary if dates are very soft.
Remove dates from water and and make sure pits are removed and place in a small food processor.
Add to the food processor about 1 Tbsp of the water the dates soaked in.
Pulse until smooth, scraping down sides as necessary. Add additional water to thin the consistency of the paste, if desired.
Set date "paste" aside.
Combine oatmeal, flax seeds, chia seeds, and chocolate chips in a medium-sized bowl.
Add date paste, vanilla extract, and sunflower seed butter to the dry mixture.
Stir to combine all of the ingredients. You also can use food processor
Refrigerate dough for about 15 minutes if possible. (It's not required, but does make it easier to work with.)
Form dough into tablespoon-size balls.
Refrigerate balls in an airtight container.
Banana/Pineapple Nice Cream
1-2 dozen bananas
1/2 cup frozen pineappl
blueberries, frozen or fresh
unsweetened coconut, shredded
Blend bananas and pineapple in food processor or mixer. (May need to add 1-2 Tbsp water to get it moving.)
Blend until smooth, top with thawed blueberries and coconut.
To see the video with these recipes click here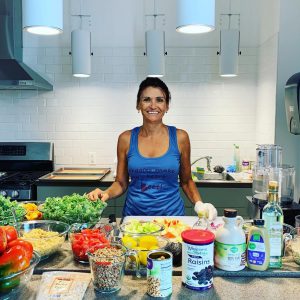 Karen has over thirty years experience as a Labor & Delivery Nurse and currently works at Virtua in Voorhees NJ. She received her BSN from Trenton State College and her Health Coaching Certificate from The Institute for Integrated Nutrition in NYC. Karen has been teaching plant-based cooking classes for over seven years. She works with clients individually and in a group setting teaching how to use a plant-based diet to prevent and reverse disease. Karen lives with her husband in Gibbstown, NJ, mother to twin girls and one granddaughter.