Here are vegan adaptations of two classic Thanksgiving dishes. The recipe for Vegetarian "Stuffing" appears in The Vegan Handbook in an article by Susan Stafursky. The Pumpkin Pie recipe is from  The Peaceful Palate by Jennifer Raymond. For more information on these books, visit http://www.vrg.org/catalog.
Veg "Stuffing"
(Serves 8-10)
For variety, you can add raisins, substitute nuts for chestnuts, or use different vegetables.
1 onion, chopped
2 stalks celery, sliced
1/2 pound mushrooms, sliced
1/4 cup vegetable broth
2 cups water
1 pound bag Pepperidge Farm Herb Stuffing, or equivalent stuffing
1/2 pound of Pepperidge Farm Corn Bread Stuffing
1 cup cooked brown rice
1 cup roasted chestnuts, chopped
Saute onion, celery, and mushrooms in broth until tender. Add water and bring to a boil. Turn off heat.
Preheat oven to 400 degrees. In a large bowl, combine the Pepperidge Farm Herb Stuffing, Pepperidge Farm Cornbread Stuffing, cooked brown rice, and roasted chestnuts.
Combine both mixtures. Spread into a large, shallow, lightly oiled baking dish. Bake at 400 degrees for 35 minutes or until top and bottom are browned. Serve hot.
Total calories per serving: 404; Total fat as % of daily value: 6%; Fat: 4 gm; Protein: 11 gm; Carbohydrates: 82 gm; Calcium: 113 mg; Iron: 5 mg; Sodium: 1096 mg; Dietary fiber: 4 gm.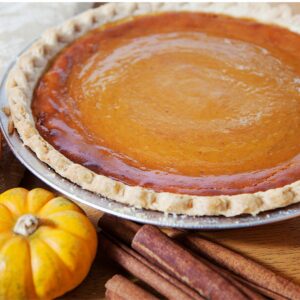 Pumpkin Pie
1-1/2 cups soymilk
3 Tablespoons agar
1-1/2 cups cooked pumpkin
1/2 cup raw sugar — or other sweetener
1/2 teaspoon salt
1 teaspoon cinnamon
1/4 tsp ground ginger
1/8 teaspoon ground cloves
Preheat oven to 375 degrees.
Combine agar and soymilk in a saucepan. Allow them to stand for 5 minutes. Bring them to a simmer over medium heat and cook for 2 minutes, stirring constantly. Stir in the remaining ingredients and mix well. Pour into an unbaked 9″ pie shell. Bake at 375 degrees for 45 minutes. Cool before cutting.
Originally posted by The Vegetarian Resource Group