New, delicious Impossible Breakfast Sandwich now available at Starbucks
The Impossible™ Breakfast Sandwich features savory Impossible™ Sausage Made from Plants, which is combined with a cage-free fried egg and aged cheddar cheese and served on an artisanal ciabatta bread. With 22 grams of protein, the new breakfast sandwich is available now at the majority of Starbucks locations throughout the U.S. and offers everything customers love about a classic sausage breakfast sandwich but with plant-based sausage.
"We're pleased to add the Impossible Breakfast Sandwich, made with Impossible plant-based sausage, to Starbucks menu in the U.S., to meet the growing customer-interest in plant-based options" said Michael Kobori, chief sustainability officer at Starbucks. "Over the years, in response to customer interest, we have added plant-based milk alternatives such as soy, coconut, almond, and oat milk. We are thrilled to expand our plant-based menu into food with this new breakfast sandwich."
The Impossible Breakfast Sandwich joins a growing number of plant-based menu items offered to Starbucks customers in the US. As part of these sustainability initiatives, and to meet an increasing customer demand, we will continue to expand plant-based choices as an environmentally friendly menu contributes to our goal to be a resource positive company.
If you are vegan, Starbucks has a nice variety of vegan meal options:
Classic Oatmeal
Hearty Blueberry Oatmeal
Seasonal Fruit Blend
Strawberry Overnight Grains
Strawberry & Toasted Almonds Overnight Grains
Avocado Spread (also vegan)
Pre-Packaged Goodies
Depending on the location, you might find vegan Hippeas packs, Rhythm Super Foods Kale Chips, That's It Bars, This Bar Saves Lives, Kind bars, and Justin's Dark Chocolate Peanut and Almond Butter Cups. And they have Justin's Classic Almond Butter and Chocolate Hazelnut Butter single-serve packets for topping their bagels.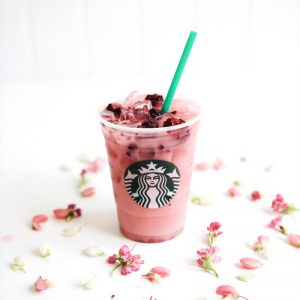 Dairy-Free Starbucks Drinks
Many of their specialty drinks can easily be made dairy free and vegan, while still retaining some or all of their specialty flavors. They carry a choice of almond, coconut, soy, or oat milk.