Hopefully, We will soon be enjoying the Summer's warm weather with a variety of outdoor events: picnics, pool parties, family barbecues, and potlucks. With these events also come refreshments, and the problems that always come with food events for vegetarians, vegans, and healthy eaters. While it's easier than ever to find delicious veg fare for the grill, choosing healthy side dishes can be a different matter. And I get tired of eating only plain green salad with my veggie burger while others munch on more exciting side items; if my soy burger can join the hamburgers on a clean patch of the grill, I want to participate in eating the rest of the fun picnic food, too.
Deli salads are popular offerings at these events, and for good reason. You can pick them up at the supermarket or gourmet deli counter on your way home from work. When made from scratch, picnic staples such as potato salad, macaroni salad, and cole slaw are versatile, tasty, and easy to prepare. And they're comforting everyone knows potato salad, and most everyone likes it.
So what's the problem? Well, your health, for one. Potato salad, macaroni salad, and cole slaw are usually dripping with fat and calories. Made with mayonnaise or salad dressing, these salads all but lose the main ingredients—the healthy potatoes, pasta, and cabbage—to the sea of cholesterol in which they're drowning. Even if you buy your slaw from the health food store or make it yourself with fat-free soy mayonnaise, these salads often lack culinary imagination. And if you're looking to blend in at a hamburgers-and-hotdogs family event, a reduced-fat, vegan version of Grandma's macaroni salad will seem dull and will probably attract some comments, not all of them complimentary.
My way of handling this problem is to bring jazzed-up vegan versions of time-honored deli salads to picnics and summer parties. The following recipes are for potato salads, macaroni salads, and cole slaws. These recipes are inspired equally by my fondness for the traditional salads with which I grew up and by my love for ethnic foods and international flavors, especially when used in subtle and surprising ways. Your fellow picnickers will enjoy these updated salads, and no one will ever miss Grandma's.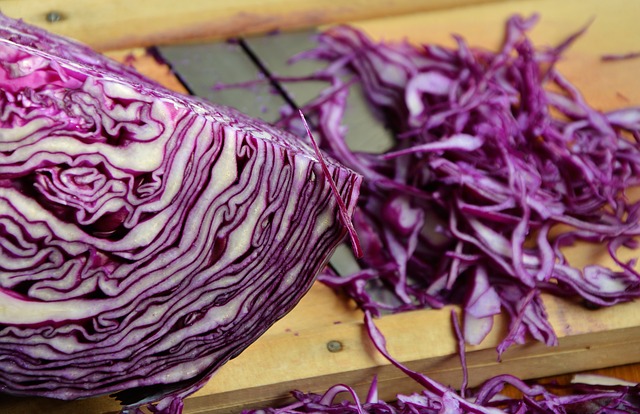 Mexican Cole Slaw
(Serves 6)This salad is beautiful and colorful and goes equally well with burritos or sandwiches.
1/2 large purple cabbage, shredded
1 large carrot, shredded or minced
1/2 medium jicama, shredded or minced
4 green onions, sliced (use green parts only)
1/2 jalapeño pepper, minced (optional)
1/4 cup soy mayonnaise (found in natural foods stores)
Juice of 1 lime, divided
2 Tablespoons liquid sweetener (eg: rice syrup)
4 Tablespoons minced fresh cilantro
1/4 teaspoon cumin, divided
Salt and cayenne to taste
1 ripe avocado
1 pear or tart apple, thinly sliced
1/4 cup slivered almonds or pecan pieces, toasted
Combine cabbage, carrot, jicama, onions, and jalapeño pepper in a large serving bowl. In a smaller bowl, whisk together soy mayonnaise, half of the lime juice, liquid sweetener, cilantro, 1/8 teaspoon of the cumin, and salt and cayenne. Add dressing by spoonful to the cabbage mixture until the salad is moistened.
In a small bowl, mash the avocado with half of the remaining lime juice, 1/8 teaspoon of the cumin, and salt and cayenne to taste.
Mound the avocado mixture in the center of the salad. Toss the pear or apple slices with the rest of the lime juice and arrange around the edge of the salad. Sprinkle with the toasted nuts right before serving.
| | |
| --- | --- |
| Total calories per serving: 210 | Fat: 12 grams |
| Carbohydrates: 26 grams | Protein: 4 grams |
| Sodium: 61 milligrams | Fiber: 8 grams |
---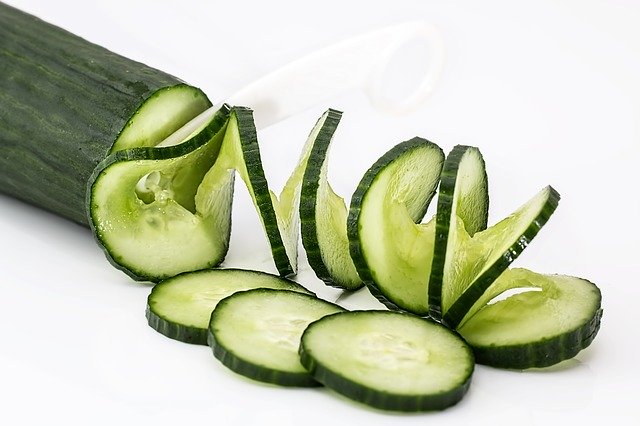 Potato Salad with Thai Peanut Dressing
(Serves 6)
If you drizzle this flavorful dressing on individual salad plates, you can cut out a lot of the fat without reducing the flavor. Leftover dressing is no problem; it will keep for several weeks in a tightly covered container in the fridge and is great on steamed broccoli or pasta.
about 1 1/2 pounds small red potatoes, quartered
1 medium cucumber, peeled, seeded, and diced
3/4 cup very hot water
4 tablespoons chunky or creamy peanut butter
3 tablespoons seasoned rice vinegar
1 tablespoon maple syrup
2 teaspoons tamari
2 cloves garlic, minced
2 teaspoons grated ginger crushed red pepper to taste
1/3 cup quartered cherry or grape tomatoes
1/4 cup fresh bean sprouts
3 green onions, sliced
1 tablespoon chopped peanuts (optional)
minced basil and cilantro (optional)
Boil potatoes until tender, drain, and let cool. In a large bowl, combine potatoes and cucumber. In a small bowl, stir the hot water into peanut butter until desired consistency is reached (you may wish to use more water). Stir in vinegar, maple syrup, tamari, garlic, ginger, and crushed red pepper. If you are not ready to serve this salad immediately, refrigerate the components. Allow the peanut dressing to come to room temperature before using. I like to serve this salad on individual plates because I use less dressing, but you may also arrange this salad on a large platter. First put the potato and cucumber mixture in an even layer on the plates or platter. Arrange slices of tomato on the plates or on the platter, either mixed in with the potatoes or around the edges. Drizzle with peanut dressing, and sprinkle with sprouts, green onions, peanuts, basil, and cilantro.
| | |
| --- | --- |
| Total calories per serving: 165 | Fat: 6 grams |
| Carbohydrates: 25 grams | Protein: 6 grams |
| Sodium: 123 milligrams | Fiber: 3 grams |
---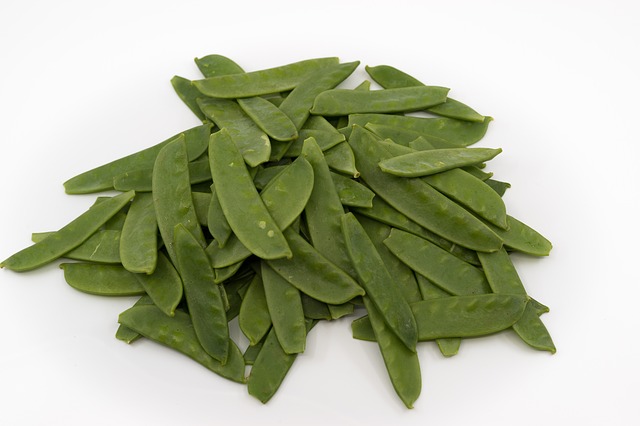 Asian Slaw
(Serves 6)
This naturally sweet salad is refreshing on a hot day. I sometimes increase the ginger to two Tablespoons and add a teaspoon or two of fresh lemon or lime juice.
1/2 large purple cabbage, shredded
1/2 cup snow peas or sugar snap peas, trimmed
1 large carrot, sliced thinly
1 red pepper, julienned
1/3 cup fresh or canned pineapple, diced in small pieces (reserve juice)
1 Tablespoon orange juice concentrate
4 Tablespoons seasoned rice vinegar
1 Tablespoon grated fresh ginger
Tamari (optional)
Toasted sesame oil to taste (optional)
Combine cabbage, peas, carrot, pepper, and pineapple in a serving bowl. In a small bowl, whisk together orange juice, vinegar, and ginger. Taste and adjust seasonings. You may wish to add some pineapple juice or some tamari. Toss cabbage mixture with dressing right before serving. Drizzle with sesame oil, if desired.
| | |
| --- | --- |
| Total calories per serving: 39 | Fat: <1 gram |
| Carbohydrates: 9 grams | Protein: 2 grams |
| Sodium: 19 milligrams | Fiber: 3 grams |
---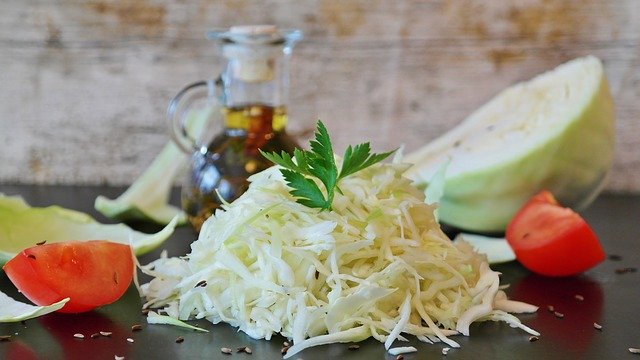 German Potato Salad
(Serves 6)
You can serve this version of German potato salad hot, warm, or cold. To turn this salad into a main dish, simply add a large green salad and some hearty rye or pumpernickel bread.
1 1/2 cups sauerkraut (try a reduced sodium, organic variety)
1 apple, peeled and shredded or minced
1/2 vidalia or other sweet onion, shredded or minced
1/3 cup apple or apricot juice
1 1/2 tablespoons stone ground mustard
4 tablespoons maple syrup
3/4 teaspoon caraway seed
1/2 teaspoon celery seed
spike and freshly ground pepper to taste
about 1 1/2 pounds potatoes, any variety, diced
tamari, to taste
3 strips tempeh or soy "bacon," crumbled or diced
Preheat oven to 350 degrees.
In an ovensafe bowl, combine sauerkraut, apple, onion, apple juice, mustard, maple syrup, caraway seed, celery seed, Spike, and pepper. Bake for 35 minutes.
Meanwhile, toss potatoes with a little tamari and Spike or pepper to taste. Place on a nonstick baking sheet and bake until tender. You may combine the potatoes and sauerkraut while hot, or you may cool them first. Crumble or chop the "bacon" on top; if using soy bacon, add right before serving (especially if you are serving the salad chilled) to keep the "bacon" crunchy.
| | |
| --- | --- |
| Total calories per serving: 175 | Fat: 1 gram |
| Carbohydrates: 38 grams | Protein: 6 grams |
| Sodium: 216 milligrams | Fiber: 4 grams |
---
Middle Eastern Macaroni Salad
(Serves 6)
In this salad, I soak the bulgur wheat in vegetable broth to give it extra flavor, but you can also try mixing some spicy tomato juice or orange juice in with the hot water or hot broth.
2 cups whole wheat, pumpkin, or tomato macaroni, cooked
1/2 cup bulgur wheat
3/4 cup boiling water or vegetable broth
Juice of one lemon
2 Tablespoons tahini
1 teaspoon garlic
Salt and cayenne, to taste
1/4-1/3 cup plain soy yogurt
2 teaspoons lemon zest
2 Tablespoons minced fresh mint
3 Tablespoons minced parsley
1 cup finely chopped assorted vegetables (any leftovers will do; some suggestions include tomatoes, spinach, yellow squash, fresh green beans, and cucumber)
Combine bulgur with water or broth. Cover and set aside. Let stand until bulgur is tender (about 20 minutes).
In a blender or food processor, combine lemon juice, tahini, garlic, salt, and cayenne. Add soy yogurt until dressing reaches desired consistency. (If you wish to have a thinner dressing, you may add some water.) Stir in lemon zest, mint, and parsley.
In a serving bowl, combine macaroni, bulgur, vegetables, and dressing. If you wish to use less dressing, you may drizzle it over the top or serve it on the side. If you serve it on the side, you can toss the macaroni mixture with some additional lemon juice and/or vegetable broth to prevent sticking.
| | |
| --- | --- |
| Total calories per serving: 144 | Fat: 4 grams |
| Carbohydrates: 24 grams | Protein: 6 grams |
| Sodium: 12 milligrams | Fiber: 5 grams |
---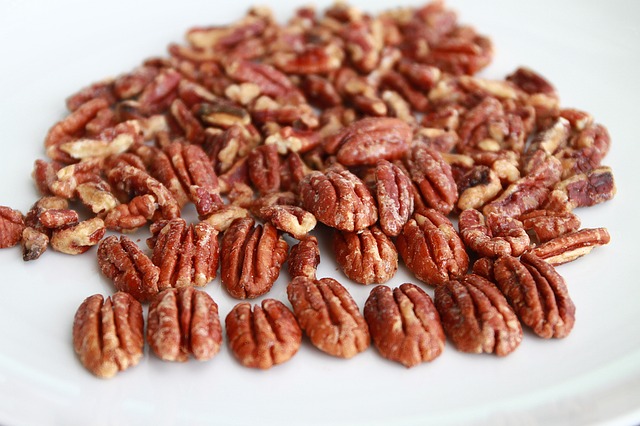 Pecan and Red Pepper Pesto Macaroni Salad
(Serves 6)
The sweetness of toasted pecans and roasted red pepper pairs nicely with the pungent olives. This pesto dressing is also great on salads or as a sauce for hot pasta. Or mix it with a little soy cream cheese and use as a dip for crackers and veggies.
2 cups whole wheat or spinach macaroni, cooked
1 red pepper, roasted, peeled, and cooled
2 cloves garlic
2 Tablespoons pecans, toasted
2 Tablespoons soy or rice parmesan
Juice of one lemon
1/2 cup water or salt-free vegetable broth
Maple syrup (optional)
1/4 cup pitted and thinly sliced kalamata olives
Fresh thyme and oregano (optional)
In a blender or food processor, combine red pepper, garlic, pecans, soy parmesan, and lemon juice. As needed, add water or broth until the pesto dressing reaches desired consistency. (Hint: if the dressing is too garlicky for your taste, slowly add a little maple syrup. Blend and taste.)
In a serving bowl, combine macaroni and dressing. Sprinkle with olives and, if desired, fresh herbs.
| | |
| --- | --- |
| Total calories per serving: 92 | Fat: 3 grams |
| Carbohydrates: 15 grams | Protein: 3 grams |
| Sodium: 63 milligrams | Fiber: 2 grams |
Leftover Fruit and vegetable peals can be used to add some delicious and healthy additions to your meals click here
By Rachel Haley Himmelheber