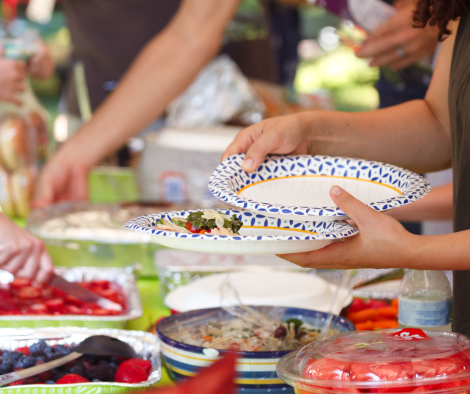 Potluck Dinner
Medford Friends Meeting House, 14 Union St, Medford, NJ 08055
Saturday March 25, 6:30pm
Non-members $5,  Members free
Children welcome. **Bring food to share. (Coffee, tea and sparkling water provided.)
Must register in advance by emailing [email protected] or texting 856-287-4609.
Email [email protected] if you would you like to help set up a half hour early or hang around after the potluck and help pack up.
**Potluck Guidelines: Each individual in your party (with the exception of children under 12) brings a vegan* dish to share that will feed at least 6 people (vegan** dishes preferred so that all types of vegetarians may enjoy the food), along with the recipe or a list of ingredients. To ensure there is enough food for everyone, please bring at least as much as your family is going to eat.  
* Vegetarian = No Meat, Fish, or Gelatin. ** Vegan = No Meat, Fish, Dairy, Eggs, Gelatin, or Honey.
See a complete list of the benefits that you receive as a member of VSSJ  click here